Derived from our successful miniature air-data system, we are now in the process of developing an integrated seven-hole probe system for specifically wind-tunnel use. This probe system, once available, will be one of the most compact and functional directional velocity measurement tools on the market.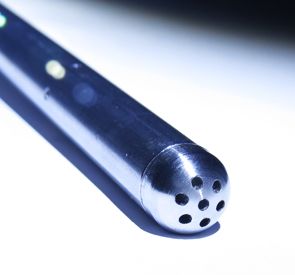 Preliminary specifications:
In-line probe & sensor package; sensor unit measures 17 mm in diameter x 100 mm long
Probes available with and without static ring for direct local static pressure sampling; sting diameters available from 1.8 mm
7 differential pressure transducers, available from +/-160 Pa for low-speed operation
Simultaneous 24 bit/1000 Hz sampling
Local temperature, absolute pressure and humidity for high-precision corrections
IMU orientation sensor for alignment and vibration warning
Simple, real-time serial data streaming; variety of protocols available
Applications:
Wind tunnel testing: a low-cost alternative to LDV, with good bandwidth
Education: a high-specification system at a cost within reach of educational institutions means that world-leading technology is now available for teaching purposes
Motorsport: an alternative to other high-performance probes available
If you have a need for a high-performance, low-cost velocity probe, or if you think you may need one in the near future, we would love to hear from you!